The concise guide to: being a student in Prague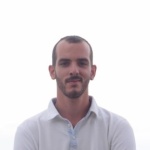 Life Hacks
Coming from a country in the South of Europe to pursue my studies in the Czech Republic was not an easy choice to make, rather the contrary; in many ways (linguistic, academic, meteorological!) it has been one of the toughest, and yet one of the most rewarding, decisions that I have made in my life so far!
Through the eyes of a "newbie":
I clearly remember my first day in Prague, five years ago, when I took my first walk in the city centre. With a map in my hand and a camera around my neck, I started strolling around, from the National Museum in Wenceslas Square towards the old Astronomical Clock in Old Town Square…
It's easy to fall in love with Prague – its beauty is beyond dispute: the mediaeval buildings, Gothic architecture, a city hosting street-artists and musicians and their marvellous performances…
My "coup de cœur" in Prague? Crossing Charles Bridge…in the snow, in the rain, during the night or at sunset.
Practical:
Prague is an extremely well-organised city, with one of the best public transport systems in Europe! When in Prague one cannot avoid paying attention to the people passing by: students, young professionals, even families, commute with buses, metro, and bikes! Owning a car is perceived as (and it most probably is!) a "burden" rather than a luxury or convenience. Prague City Hall is constantly upgrading public mobility services, adding more routes, and night trams and buses for the "night walkers".
Personal development:
The things I have learned during these five years? Surviving and thriving in a country that isn't my own; learning Czech; making friends with students and colleagues from the Czech Republic, Germany, Italy, France, Slovenia, Portugal, Cyprus, and Saudi Arabia; and travelling a lot, both within Czech Republic and in its neighbouring countries.
The University:
Right from the beginning, as a Bachelor's student at Charles University, Ι realised that the only way to achieve my academic goals would be through hard work and dedication. Luckily, this hard work and consistency did not go unnoticed! I have been rewarded with consecutive scholarships and distinctions, but more importantly, with the trust and friendship of my professors and colleagues. It's important to emphasise the outstanding ethics and constant availability of Charles University staff. The positive attitude of its staff makes the University a home from home. My impression of Charles University, in a nutshell: palmam qui meruit ferat: achievement should be rewarded. And at Charles University, it is!
… And life afterwards!
While still on the second year of my Master's degree in Physiotherapy, I was given my first interview (and a job!) with a renowned multinational producer of physiotherapy equipment. After my graduation, I was offered a full-time contract, making the transition from academia to the world of work as smooth as it could possibly be. It is my firm belief that Charles University provided me with all the qualifications required by the private sector for a young professional. I am honoured to be an alumnus of Charles University and am pleased to see that the good reputation of the University is also reflected in the job market.
P.S. To your inner Phileas Fogg:
Travel is the most intense mode of learning!
There are many must-see cities and places while living in or before leaving Prague. My personal favourite, and number one in my bucket list (crossed it out this year!), is Český Krumlov, a green, picturesque town, also designated as an UNESCO World Heritage Site, and located only a few hours' drive away from Prague.
Feeling athletic? Try rafting on the Vltava river – it's fun, easy and safe, even for beginners!
Another favourite place of mine is Bohemian Switzerland. Close to the border with Germany, it offers many hiking trails, giving you the chance to admire nature.
Kutná Hora is another place that shouldn't be missing from your to-do list. And how could it? Have you ever seen a church built entirely from bones?!
Last but not least, if you don't want to travel too far from Prague, a nice trip that combines history and some hiking is Karlštejn castle.